Artist Leaves 15,000 Coins On Street And Live-Tweets People's Reactions
What would you do if you stumbled upon a pile of money?
An artist and her friend were eager to find out — and their curiosity has sparked a viral social experiment.
Lana Mesic, a 29-year-old freelance photographer from the Netherlands, found herself in the odd predicament on Wednesday.
While in London for an artist residency, she came into possession of 15,000 twopence coins. Mesic had built a tower out of the coins in order explore how value is created for a project related to the residency. But, when the project was over, she had no idea how she would transport 235 pounds' worth of coins back to Holland.
She was so perplexed by the problem that she enlisted the help of Jamahl McMurran, her 24-year-old Airbnb host who she had been staying with during her residency. The two were having drinks on McMurran's balcony, throwing around a few ideas, when he looked over at a neighboring canal and said, "Hey, why don't you just put them on the street [by the] canal and see what happens," McMurran recalled to HuffPost. "I said it pretty flippantly, as a joke."
But Mesic was intrigued. They continued to talk and decided to leave the coins on the sidewalk by the canal and film how passersby responded. The next morning, the two woke up early, took a train to Mesic's studio, bagged up the coins and headed to the canal.
McMurran said that by 9 a.m., the coins were placed in a pile by the canal. While the two sat in McMurran's balcony and waited, McMurran decided to live-tweet their experiment.
Jamahl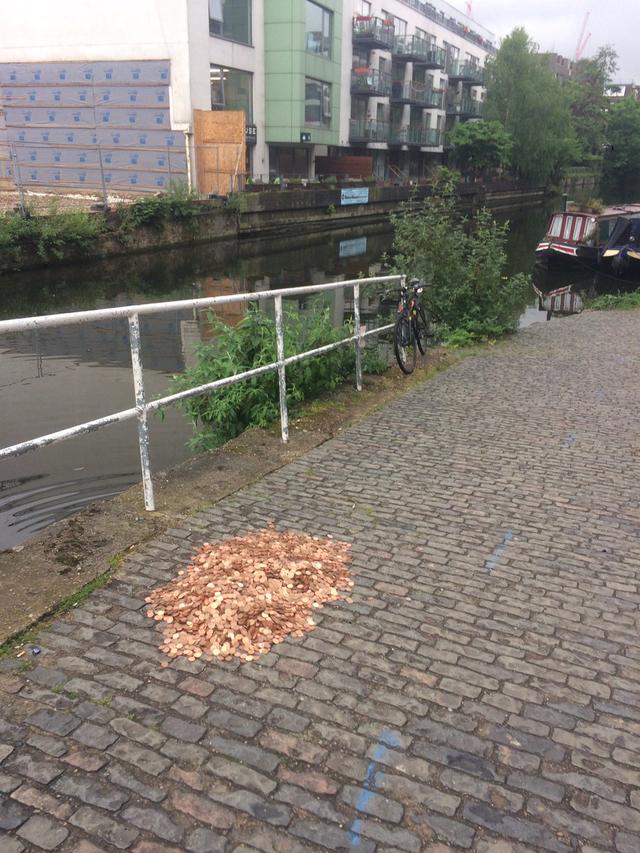 So my Airbnb guest and I decided to place 15000 2p coins on the canal and record what would happen.... #coinsbythecanal
Not long after, a few kids came across the pile and treated it like a sandbox.
Jamahl
Some people like to take photos and play #coinsbythecanal
One kid decided to fill a bag with the coins and the struggle to carry it was real.
Though some people grabbed just a few coins while on the go.
Jamahl
Others need some change for their coffee #coinsbythecanal
This dude just put his umbrella in the middle of the pile and took a random photo.
While this man responded to the pile in the most magical — and viral — way and made it rain.
This guy is awesome.... looking for some magic #coinsbythecanal pic.twitter.com/Dj4Dvojawn

— Jamahl (@JHM_UK) May 17, 2017
Yet, a little after noon, the experiment neared its demise when these guys showed up.
Jamahl
These guys decide to spoil everyone's fun #coinsbythecanal
They pretty much cleared the sidewalk.
Jamahl
And now it's over.. cheers fellas #coinsbythecanal
McMurran said that all the coins were gone by 12:40 p.m.
Mesic told HuffPost that it's easy to look at this experiment as something that's just weird or funny, but what she found more interesting were the motivations behind people's responses. Especially since she feels people in the U.K. regard a twopence coin, which is two one-hundredths of a pound, as "nuisances and annoying," much like Americans regard pennies.
She also wonders if people would have responded differently if they knew how much money was actually in the pile of coins.
"If you knew it was £300 on the floor, your behavior may change," Mesic told HuffPost.
On the other side of the coin, however, McMurran found the experiment to be a whole lot of fun.
"I was excited to see how many different behaviors this could bring out in people," he said.
As were we all.