What happens if you eat 6 eggs in a day?
First, your central and lateral incisors will slice into the protein complexes that the eggs are composed of. Then the muscular hydrostat that forms the floor of your food processing point will maneuver the egg to the premolars and molars for the purpose of mastication. Once mastication has completed, the floor again moves the now mostly pulverized egg protein past the palate region and into the esophagus. From there, a series of pharyngeal constrictors will force the downward movement of the egg past the esophageal sphincter to its new home in your stomach. From there a series of processes occur to convert the still identifiable-as-egg protein into a slurry which then begins to be absorbed as it travels through your body's digestive tract in the small-intestine through a series of protein deconstructing enzymes which allows the small intestine to reabsorb the enzymes, proteins, water, vitamins, ions and organic substrates of the slurry. From there, the mostly nutrition-free slurry is passed to the large intestine where it is dehydrated even further and compacted to form a (hopefully) mostly solid substance that your body will store until an appropriate time until evacuation and elimination of the non-digestible compounds is executed.
The following image is from Austin Community College's website.
Start Here. Get There.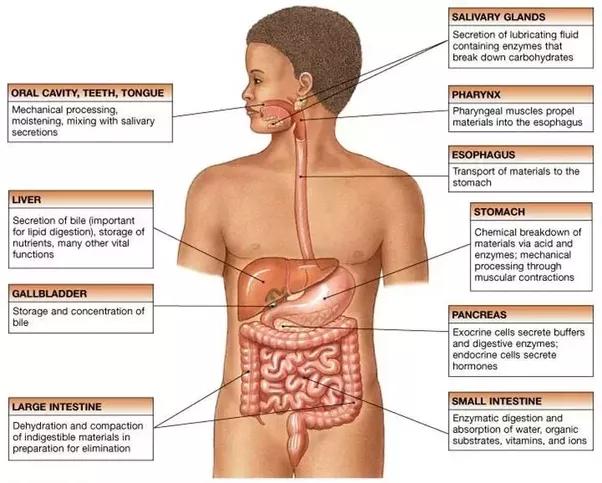 Actually, that's the literal thing that's going to happen. If you're worried about HEALTH issues however;
Nothing. Unless you happen to be one of the less than 1% of all people on earth that are allergic to eggs. In which case your body will react anywhere on a scale of mild hives to death from anaphylaxis.
If you're not allergic to eggs then your body will hopefully digest them as normal and then evacuate what's leftover once it's done its job.
As an aside, I have actually eaten half a dozen eggs before.
Scrambled, fried hard, over easy, as an omelette, boiled, and in a pot of egg-drop soup. Eating half a dozen eggs isn't going to hurt you as long as like ANY food, you remember moderation and don't consume more than your body can handle and remember that you WILL gain weight if your body does not utilize more calories and fat than you consume each day.