What can't you do to your country's currency?
Use it once it's defaced.
Some people think you can't deface United States bills at all, but this isn't true. It's not like the NSA put cameras in the fabric of the bills. At least, I don't think so.
Anyway, it's completely legal to draw on a bill whatever you want. However, you are not allowed to use the bill for official monetary transactions.
And to close, I'll give you some awesome defaced United States dollar bills.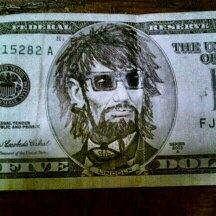 Edit: Thank you, Kim Morris for your comment. It turns out, you can use this stuff! I've done a little (AKA, googled and clicked the first result I saw) research and found that you are allowed to use defaced money as legal tender so long as it's recognizable enough to not have to be taken out of the circulation.